Why talk with a Chartered Retirement Planning Counselor (CRPC®)?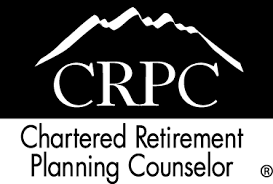 If you're newly or recently retired, you should have a "retirement income" plan. No one should retire without one.
Here's why. After you retire, you may face the common problem of "drawing down" your savings. Many retirees live very well in the first few years after leaving work … so well that they end up withdrawing and spending more money than their portfolios can earn back.
A CRPC® has studied the entire arc of retirement through numerous case studies (real-life retiree situations). A CRPC® studies how income needs change over the course of retirement, and the types of investments that may meet lifestyle needs in both the active and less active phases of retirement.
Remember when the "average" person could expect to live to 72? Today, many of us may live much, much longer. So it is vital to have a long-range plan for retirement income, and essential to determine safe income withdrawal rates. A CRPC® can help you do that, and professionally review your plan annually.
No one should retire with fears about outliving their money. No retiree should face the shock of realizing that his or her savings are fast disappearing. The advice of a Chartered Retirement Planning CounselorSM may help you avoid both of these scenarios. If you would like to consult with a CRPC® today, please call Lynn at (715) 635-3136, or send an e-mail to lynn@davidpford.net. I look forward to speaking with you.